Where to get the Best Hair Micropigmentation Toronto?
Book Your Free Consultation Today Or Call
(416) 887-5234
Hair Micropigmentation is Non-Invasive
The only 100% successful treatment for hair loss, including thinning hair, receding hairlines, pattern baldness, alopecia, and scars from hair transplants, is hair micropigmentation.
Hair micro pigmentation is a non-invasive procedure that injects pigment into the scalp using fine micro-needles.
As a result, small hair follicles start to form, thickening the hair and giving it a fuller appearance.  We can give you the formation of a short buzz cut if your hair is entirely bald, starting to recede, or thin.
The hair micropigmentation procedure, when carried out by a qualified professional, can repair receding hairlines, thicken remaining hair, hide scarring from transplants, and provide the appearance of closely trimmed hair.
People with mild hair thinning or recession might also benefit from hairline tattoo.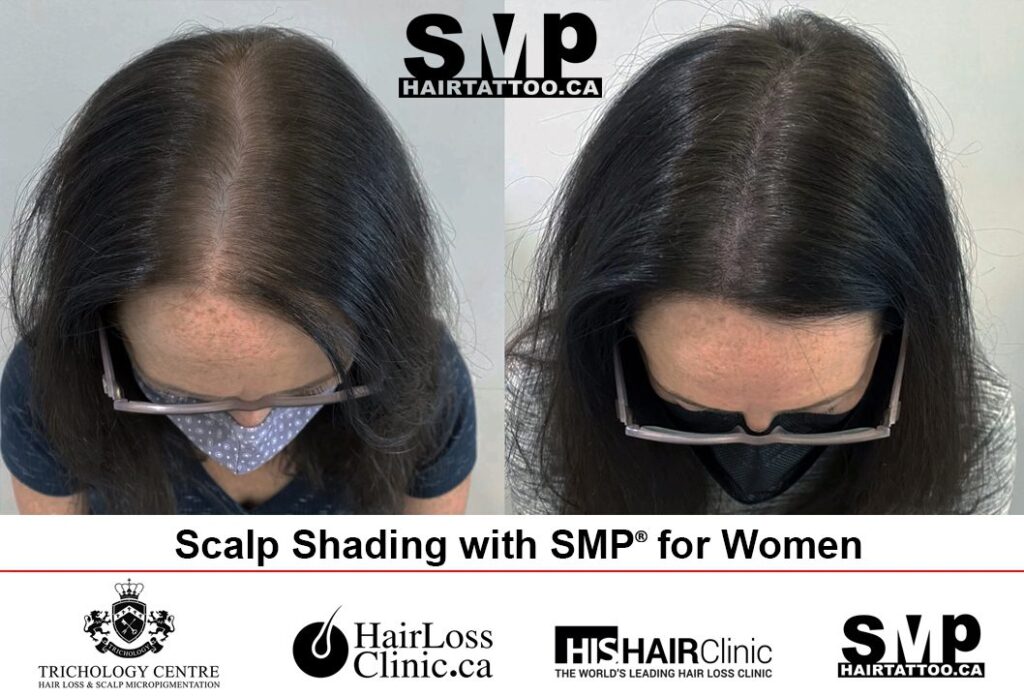 Adds density to thinning hair
Hair micro-pigmentation mimics natural hair follicles and colour to create the illusion of thicker, stronger hair, with no strict dietary or daily restrictions associated with scalp pigmentation. Instead, the treatment involves cosmetic pigmentation and cutting-edge equipment to customize your hairline design, preferred styles, and end goals. 
Patients typically undergo two to three treatments spaced 7 to 14 days apart, with touch-ups every 4-6 years if necessary. Also known as Scalp Micropigmentation, Hair Tattoo, Head Tattoo, Scalp Tattoo, Micro pigmentation, Scalp Pigmentation, Micropigmentation, Scalp, and SMP.
Hair micro pigmentation vs other hair loss treatments
How scalp tattoo compares to conventional hair loss treatments:
No Surgery operation
Minimal Maintenance required
Budget-friendly
No Medication needed
100% Effective
Can restore a hairline
Hair micropigmentation can personalize your hairline style to restore a receding hairline with various options, including crisp and clean-cut, youthful and natural, slightly receded, or mature. Collaborating with your treatment professional helps design natural hair micropigmentation unique to each customer.
For male and female pattern baldness
Hair Micropigmentation is an excellent option for those who suffer from hair loss, regardless of the extent of their hair loss. Individuals with pattern baldness can achieve a fuller head of hair instantly by simulating the appearance of natural hair follicles using hair micropigmentation. 
Meanwhile, those with slight recession or thinning hair can benefit from scalp pigmentation to add density and strength to thinning areas. With this cosmetic procedure, customers can achieve a natural-looking, fuller hair appearance.
For scar camouflage
Hair micropigmentation can conceal hair transplant scars, including FUE/FUT and strip scars. Over 30% of scalp tattoo clients have scarring from earlier hair transplant procedures, limiting hairstyle options.
Micro scalp pigmentation can conceal the following:
Micro pigmentation treatment can conceal scars from accidents, strip, plug, alopecia, and FUE/FUT. The procedure involves depositing pigment into the scar tissue and surrounding area, resulting in up to 85% improvement in appearance by matching the colour and creating the illusion of follicles within the scar.
Summary
Scalp micropigmentation (SMP) has become a popular hair loss treatment for both men and women who are suffering from hair loss. This permanent makeup technique involves the use of microneedles to deposit pigment into the scalp to mimic hair follicles. 
SMP can add density to thinning hair, create the appearance of a full head of hair, and help repair receding hairlines. It can also be used to conceal scarring from hair transplants. The procedure is designed to blend in with existing hair and create a natural hairline, often resembling a buzz cut.
With SMP, you can achieve the appearance of real hair follicles and a natural-looking scalp tattoo. SMP artists are skilled in creating a realistic hairline tattoo that can provide a long-term solution for thinning hair or balding. 
Hair micropigmentation is a non-surgical and low-maintenance hair loss solution that can last for years with proper care. Consult with an SMP artist to learn more about the procedure and see if you are a good candidate for SMP treatment.
Are you looking for the BEST hair micropigmentation clinic in Toronto, GTA?  Look no further.  We are the most experienced SMP Toronto clinic because we invented the SMP procedure.  To book a FREE consultation at any of our 4 SMP clinics, please CLICK HERE.