Hairstyles for Men with Thinning Hair: Embrace Your Style with Confidence
Thinning hair or receding hairlines are commonly encountered as men age. However, thinning hair doesn't mean you have to compromise on style. On the contrary, numerous hairstyles can complement and enhance your appearance while giving you the confidence to embrace your unique look. From shorter cuts that create the illusion of thicker hair to stylish longer styles that work with your thinning strands, options suit every preference and personality. In this comprehensive guide, we will explore a range of hairstyles for men with thinning hair, including the buzz cut, crew cut, mop top, slick back, pompadour, quiff, skin fade, and undercut. Additionally, we will explore the rising trend of scalp micropigmentation, a method that utilizes hair or scalp tattoos to create the appearance of thicker hair.
The Buzz Cut: Embrace the Clean and Minimalistic Look
The buzz cut is a timeless and enduring hairstyle that is ideal for men experiencing thinning hair. This haircut entails trimming the hair to a very short length, typically with the use of clippers, resulting in a uniform look throughout the head. The buzz cut has several advantages for men with thinning hair:
It minimizes the contrast between the areas with thinning hair and the surrounding areas, giving the appearance of a more uniform hair density.
It requires minimal styling and maintenance, making it a convenient choice for those with a busy lifestyle.
The buzz cut has the ability to give the impression of thicker hair, making it a popular choice for men with thinning hair.
Tips for Rocking the Buzz Cut:
Consult a professional barber to determine the best length for your buzz cut based on your hair texture and facial features.
Consider opting for a slightly longer length on top to add some texture and dimension to the style.
Embrace the easy upkeep of the buzz cut by maintaining a clean and moisturized scalp and hair.
Experiment with facial hair to complement your buzz cut and add definition to your overall appearance.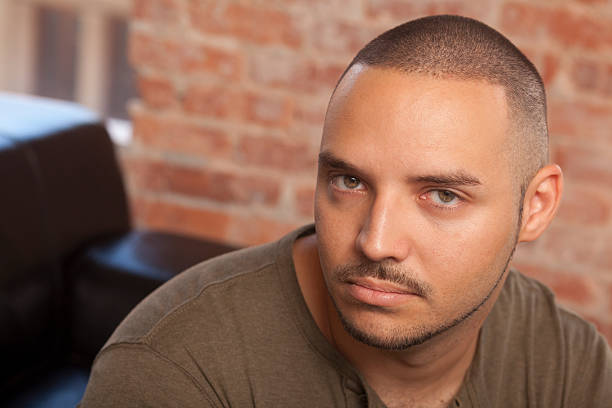 The Crew Cut: A Timeless and Versatile Option
The crew cut is another popular hairstyle for men with thinning hair. With this style, the hair is cut shorter on the sides and back, gradually blending into longer lengths on the top. The top is left slightly longer, allowing for more versatility in styling. The crew cut provides a clean and polished look while giving the appearance of thicker hair on top. For gentlemen in search of a polished and fashionable hairstyle that is suitable for both formal and informal occasions, it presents itself as the ultimate option.
Tips for Nailing the Crew Cut:
Discuss your desired length and style with your barber to ensure the crew cut is tailored to your needs.
Use a quality styling product to add texture and volume to the hair on top, enhancing the illusion of thickness.
Regularly visit your barber for maintenance trims to keep the crew cut looking sharp and well-groomed.
The Mop Top: Embrace Effortless Coolness
If you prefer longer hairstyles, the mop top can be an ideal option for men with thinning hair. This style features longer hair on top, often with layers and texture, while the sides and back are kept shorter. The mop top embraces a carefree and tousled aesthetic, exuding effortless coolness. This style works well for men with thinning hair, as the longer length on top can help create the look of more volume and coverage.
Tips for Rocking the Mop Top:
Regularly visit your stylist for trims and maintenance to prevent split ends and maintain the desired shape and texture of the hair.
Use a volumizing shampoo to add body and thickness to your hair.
Experiment with different styling products, such as texturizing sprays or sea salt sprays, to enhance your hair's natural movement and texture.
Consider incorporating subtle layers into your haircut to add dimension and movement to your locks.
Embrace the tousled look using your fingers to tousle and style your hair rather than using a comb or brush.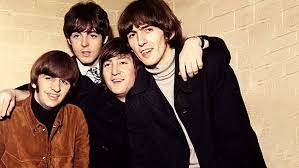 The Slick Back: A Polished and Sophisticated Choice
The slick back hairstyle is a refined and timeless option for men with thinning hair. This style involves combing the hair away from the face, using a styling product to create a sleek and polished appearance. The slick back hairstyle works well for thinning hair as it gives the look of a fuller head of hair by distributing it evenly across the scalp.
Tips for Perfecting the Slick Back:
Start with clean and towel-dried hair to ensure the styling product distributes evenly.
Use a high-quality pomade or hair gel for a sleek and shiny finish.
Comb your hair back with a fine-toothed comb, starting from the hairline and working to the back of the head.
Apply the styling product sparingly to avoid a greasy or weighed-down look.
Consider incorporating a side part or a slight quiff at the front for added style and dimension.
The Pompadour: A Classic Style with a Modern Twist
The pompadour is a versatile and stylish hairstyle that can work wonders for men with thinning hair. The top of this hairstyle showcases longer hair, styled in an upward and backward direction, with the sides and back kept shorter. The pompadour adds height and volume to the hair, creating the illusion of fuller locks. In addition, this classic hairstyle can be customized to suit different hair lengths and textures.
Tips for Mastering the Pompadour:
Work with your stylist to determine your pompadour's ideal length and shape based on your hair type and face shape.
Enhance the volume and lift at your hair's roots by using a volumizing mousse or spray.
Blow-dry your hair upwards and away from your face to create height and volume.
Apply a pomade or styling wax to the hair on top, combing it back and slightly to the side for a sleek and sculpted look.
Use a comb or fingers to style and shape the pompadour according to your desired aesthetic.
The Quiff: Amp up the Volume and Style
The quiff is a versatile and bold hairstyle that can add volume and dimension to thinning hair. This style features longer hair on top styled upwards and slightly back, while the sides and back are shorter. In addition, the quiff is characterized by its textured and voluminous appearance, making it a perfect choice for those looking to create the illusion of thicker hair.
Tips for Achieving the Perfect Quiff:
Begin with damp hair and apply a volumizing mousse or root-lifting spray to provide volume and hold.
Employ a round brush and blow dryer to elevate the hair at the roots as you style it backward and upwardly.
Apply a styling product, such as clay or paste, to add texture and hold to your quiff.
Utilize your fingers or a comb to mould and arrange the quiff to your preferred height and direction.
Finish with a light-hold hairspray to ensure the style lasts throughout the day.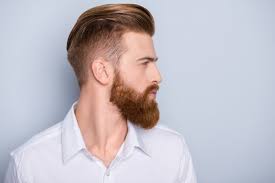 The Skin Fade: A Modern and Edgy Look
Skin fade is a popular haircut that works well for men with thinning hair. This style features a fade haircut, where the hair gradually transitions from longer lengths at the top to shorter lengths on the sides and back. The skin fade creates a clean and modern appearance, drawing attention away from thinning areas and emphasizing the contrast between the long hair on top and the shorter sides. In addition, the skin can be combined with various hairstyles, such as the buzz cut, crew cut, or pompadour, allowing for versatility and personalization.
Tips for Rocking the Skin Fade:
Consult a skilled barber or stylist to ensure a seamless and well-executed skin fade.
Communicate your desired length and level of fade to achieve the desired effect.
Experiment with different hairstyles on top, such as the quiff or slick back, to find the style that suits you best.
Regularly visit your barber for maintenance trims to maintain the clean and sharp appearance of the skin fade.
The Undercut: A Stylish and Daring Choice
The undercut is a trendy haircut that can work wonders for men with thinning hair. This hairstyle showcases longer hair on the top section, creating a distinct separation from the shorter hair on the sides and back, resulting in a striking and fashionable appearance. In addition, the undercut draws attention away from thinning areas and allows for versatile styling options, such as slicking the hair back or making a textured and messy appearance.
Tips for Nailing the Undercut:
Discuss the length and level of undercut with your stylist to ensure it complements your hair type and face shape.
Consider applying a styling product like wax or pomade to enhance the texture and maintain the longer hair on top.
Experiment with different parting styles, such as a side or middle part, to create different looks.
Embrace the versatility of the undercut by trying out various hairstyles and techniques.
Scalp Micropigmentation (SMP): A Cutting-Edge Solution
Those desiring to improve the appearance of thinning hair or a receding hairline can find a revolutionary solution through scalp micropigmentation. The procedure of scalp micropigmentation is a non-invasive method that includes the application of pigments to the scalp, resulting in the illusion of a thicker hair density. It is performed by skilled practitioners who use specialized techniques to replicate the look of natural hair follicles. In addition, SMP can be customized to match your hair colour and skin tone, creating a seamless and natural-looking result. This innovative technique is gaining popularity among men with thinning hair as it provides a long-lasting, low-maintenance solution.
Tips for Considering Scalp Micropigmentation:
Research and consult with reputable SMP practitioners to ensure you choose a qualified and experienced professional.
Request visual evidence of their previous clients' transformations by asking for before and after photos to evaluate the calibre of their work.
Discuss your desired outcome and expectations with the practitioner to ensure they understand your needs.
Consider the cost, potential side effects, and maintenance requirements associated with SMP.
To ensure optimal healing and long-lasting results from the SMP procedure, it is important to adhere to the post-treatment care instructions given by the practitioner.
Thinning hair doesn't mean you have to sacrifice style and confidence. By employing appropriate haircut and styling methods, you have the ability to embrace your thinning hair and confidently showcase a personalized look that matches your individuality and choices. Whether you opt for shorter cuts like the buzz cut or crew cut, embrace longer styles like the mop top or quiff, or explore innovative solutions like scalp micropigmentation, numerous hairstyles are available to enhance your appearance boost your confidence. Each style offers unique benefits, whether creating the illusion of thicker hair, adding texture and volume, or providing a sleek and polished look. Additionally, the emerging trend of scalp micropigmentation offers a cutting-edge solution for those seeking long-lasting and natural-looking results.
Book Your Free Consultation Today Or Call
(416) 887-5234