GUIDE TO SCALP TATTOO AND HAIRLINE TATTOO
What is a Scalp Tattoo?
A scalp tattoo and hairline tattoo are names for scalp micropigmentation or SMP. Scalp micropigmentation was developed around 20 years ago by Mr. Ian Watson of His Hair Clinic UK. At Hair Tattoo Clinic, we use the same expert techniques developed by Mr. Watson.
The process involves placing specialized pigment dots to replicate the hairline and scalp area. Once done, the look resembles a buzz cut or closely shaved hair. However, the dots look realistic and natural, even at close range.
When a client comes to do their hairline, it is often called a hairline tattoo. At Hair Tattoo Clinic, we can recreate different types of hairline tattoos. The hairline can be sharp, like when a barber shaves it evenly, or soft and diffused, giving the hairline a soft natural look.
A scalp tattoo is a non-invasive procedure. Unlike a hair transplant, where your hairs are surgically removed from your scalp and can take months to heal, a scalp micropigmentation procedure is done in just a few hours for each session, and you can go about your day with no downtime.
What are the Benefits of Scalp Micro Pigmentation?
Scalp micropigmentation cost is affordable, a fraction of a hair transplant.
If done correctly, a scalp tattoo looks perfectly realistic, even at close range.
You can design your hairline tattoo any way you like, sharp or soft, looking for a complete hairline restoration.
Hair micropigmentation lasts approximately eight years, with a touch-up every 2 to 4 years if required.
Micro scalp pigmentation requires little maintenance, just sunscreen if you are in the sun.
Scalp micropigmentation for women is gaining in popularity, too, to add density to existing thinning hair.
Scalp pigmentation is ideal for covering FUT and FUE scars from hair transplants.
What is the Scalp Tattoo Procedure like?
STEP 1: Come in for a FREE no obligation consultation at any of our 5 scalp micropigmentation centres in the GTA – Toronto, Mississauga, Brampton, Richmond Hill, and Ajax. If you live outside the GTA we can do a Skype or Zoom call for your initial consultation as well.
STEP 2: During your initial scalp tattooing consultation, we will discuss the various hairlines and determine the best hairline tattoo to achieve the look you are looking for. We can recreate an even hairline or uneven hairline, the choice is yours.
Based on the amount of SMP coverage you require (we base this on the norwood scale), we will determine the pricing for your hair tattoo. "Should I shave my head?" If you are going for the buzz cut look we would recommend shaving your head one or two days before your first session.
STEP 3: The hair micropigmentation procedure takes 3 to 4 sessions, and each session takes a few hours. We recommend wearing loose clothing to be more comfortable. During each session, you will be sitting comfortably in our special SMP chair. Once the procedure is complete, you can go abouts the rest of your day. You do not require anyone to drive you. We will schedule your next appointment in 7-10 days. The whole scalp tattoo process takes only 2-3 weeks to complete.
STEP 4: During the time in-between sessions, we advise you not to shampoo your scalp for at least 4 days. Avoid swimming, suntanning, heavy sweating, saunas and steam rooms during the procedure. Once done, you can enjoy walking around with your new buzz cut look.
Is a Scalp Tattoo Like a Regular Tattoo?
A scalp tattoo is not like a regular tattoo. Specialized inks and needles are used for scalp micropigmentation that is different than regular tattoos. Regular tattoos go deeper in the skin and over time tend to turn blueish in colour. A micropigmentation hair tattoo will fade over time, but will not turn blue like a traditional tattoo.
We use specialized inks and specialized SMP needles that are different than a regular tattoo. Also the skills of a SMP artists are very different than the skills of a tattoo artist. So we strongly recommend not to go to a tattoo artist or anyone who does not specialize in scalp micropigmentation as you may experience scalp micropigmentation regrets.
What is Microigmentation?
The term micropigmentation hair is a technique using pointalism where thousands of tiny dots are placed on the hairline and scalp areas. For someone who requires eyebrow restoration, we recommend another technique called microblading which creates tiny lines instead of tiny dots.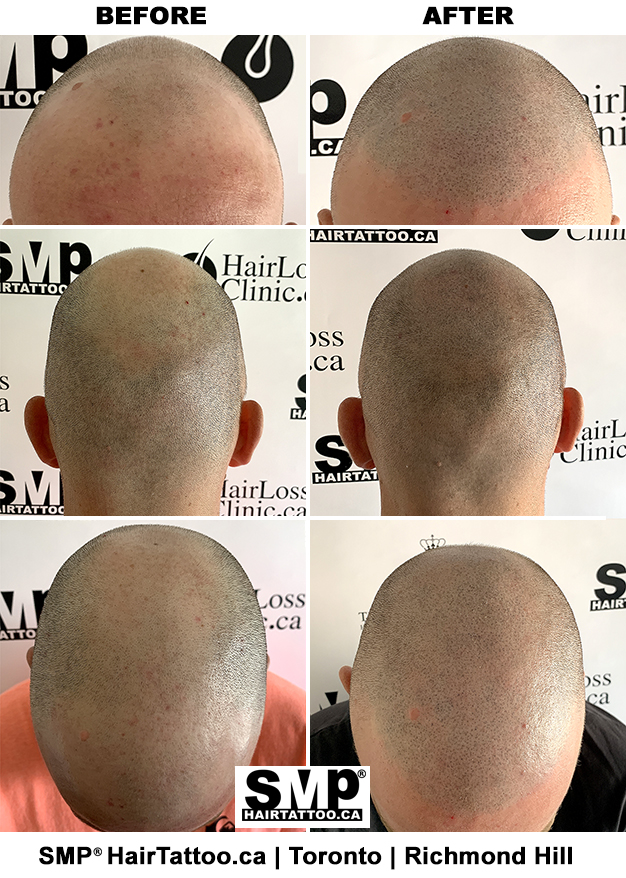 Is There a Scalp Micropigmentation Near Me?
We have 4 SMP centres to choose from if you live in the Toronto GTA. We also offer our SMP Home Services, where we can come to you to do your scalp tattoo. In addition, our mobile unit can go as far west as London, Ontario, as far north as Barrie, Ontario, as far east as Kingston, Ontario, and as far south as Niagara Falls, Ontario.
Contact Hair Tattoo Clinic today and schedule your free hair tattoo consultation with one of our expert SMP artists. We have performed the scalp pigmentation procedure on many clients over the years and, as you can see from our reviews, have a very high client satisfaction rate.
Ready to get started?
Contact Us Today to Schedule YOUR Consultation!