header-image
Looking For SMP©
Scalp Micropigmention Hair Loss Expert?
The original SMP© scalp Scalp Micropigmention Contact Us
haeder-image 5-1024x406 (1)
We Are The Inventors Of Scalp Micropigmentation SMP®
Are you seeking the best clinic to get your scalp micropigmentation SMP done? Well, look no further. We are the inventors of the original hair tattoo procedure.
HIS Hair Clinic, located in the UK, is a globally recognized leader in hair restoration. They are the first company to specialize in Scalp Micropigmentation (SMP) treatment and have been perfecting their hairline tattoo technique for over two decades.
This treatment is a non-surgical, cost-effective, and immediate solution for those suffering from hair loss due to androgenetic alopecia or alopecia areata. HIS Hair Clinic Canada is staffed with certified technicians and SMP artists trained at the UK clinic, and their treatment combines science and artistry to restore hair.
This hair micropigmentation treatment is a complex process that requires skill and artistry to achieve quality results. It is a safe procedure that produces visible results immediately and is cost-effective compared to other hair loss solutions such as surgery, cosmetics, and medication.
Is SMP A Hair Tattoo?
Yes and No. The SMP treatment is often called permanent makeup, hair tattoo, scalp tattoo, or hairline tattoo. However, micro scalp pigmentation is nothing like a regular tattoo.
The hair micropigmentation technique requires the technician to carefully consider the size of the needles, the depth of the penetration, the angle, pigment colours and distribution rate depending on the specific area of the scalp being treated, the individual's skin tone and the desired result.
The needles are not inserted as deeply as a traditional tattoo, and the specialized pigments do not fade in colour over time. Computer-controlled microfine needles in triple clusters are used to guarantee the consistency of results.
Why Is Our Hairline Tattoo | Hair Tattoo Technique Different Than The Competition?
Simply put, our staff were trained by the best. His Hair Clinic is the world's leading SMP and hair loss clinic. HIS Hair Clinic is globally accredited as the pioneer of hair tattoo and scalp tattoo procedures.
We created a special treatment in 2002 to combat androgenetic alopecia, creating an incredibly realistic 3D effect on the scalp. Even when you look closely, the results seem like real hair follicles for men with a buzz cut and women with thinning hair.
Our SMP® Micro Hair Tattoo has been globally acclaimed for its outstanding results, and our proficiency and knowledge in this field have earned us a reputation as one of the top providers around the world. We have dedicated considerable time to perfecting our hair tattooing methods.
Book Your FREE Consultation Today! Toronto, Mississauga, & Richmond Hill Clinics
Our Hair Tattoo and Hair Loss Treatments
Ready to Get Started?
Contact Us today to Schedule YOUR FREE Consultation!
647-492-5022
Scalp Micropigmentation for Women
SMP for FUE & FUT Hair Transplant Scars
SMP HAIR FOR ALOPECIA IN WOMEN AND MEN
HAIR MICROPIGMENTATION IS USED TO TREAT:
Hair loss in men – male pattern baldness – androgenetic alopecia
Hair loss in women – diffused thinning hair – female pattern hair loss (we can add density and thickness to thinning hair)
Receding hairline (we can recreate a new hairline tattoo)
Hair transplant scars and other scars (we can hide FUT & FUE scars)
Alopecia Areata (we can camouflage bald patches on the scalp that didn't grow back)
Camouflage thinning or bald patches in beards and moustaches
Recreate thinning eyebrows or no eyebrows with micro blading technique
As the innovators of this micro scalp pigmentation hair treatment, we can offer our clients more experience and expertise than any other company worldwide.
For men and women alopecia sufferers, we are fully aware of your extremely sensitive needs, and our hair loss clinics are designed to provide a private, confidential and relaxing environment.
Our hair transplant clinic referral can help you find the right doctor if you are considering hair restoration surgery.
If you are losing your hair and looking for a tattoo hair or other hair loss solution, why not give our hair specialist Toronto clinic a call for a free no obligation consultation at (647) 492-5022. Visit our TRICHOLOGY CENTRE | HairLossClinic.ca for free online hair loss/alopecia assessment today.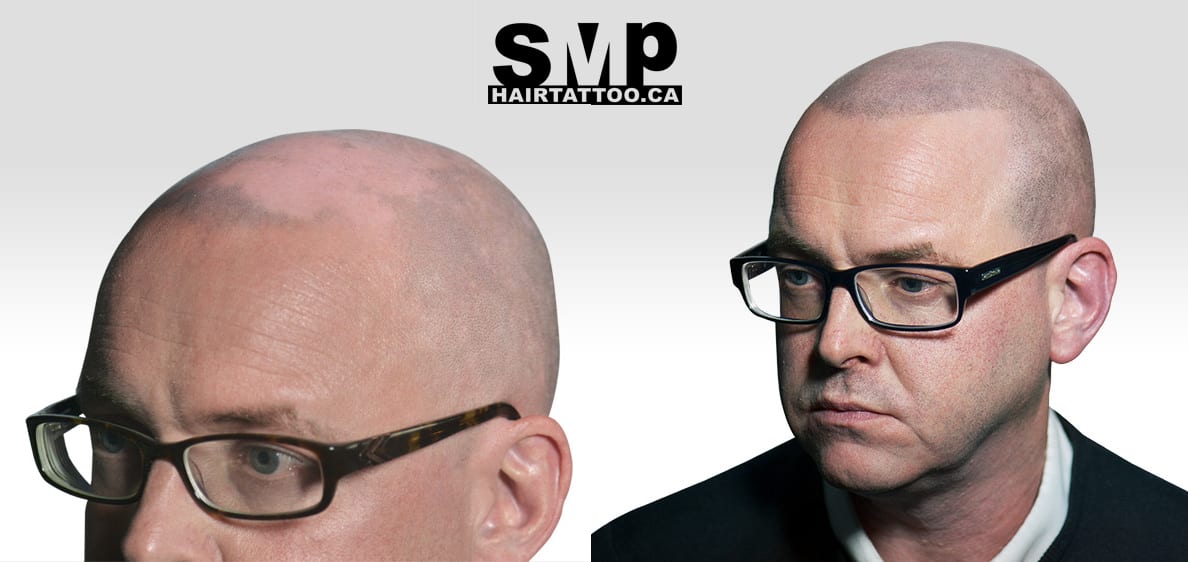 Ready to Get Started?
Contact Us today to Schedule YOUR FREE Scalp Pigmentation Consultation at our hair loss clinic in Toronto and Richmond Hill.
Learn the SMP hair process and cost | Hair Loss Clinic Toronto Trichology Centre.
647-492-5022