IS SMP HAIR MICROPIGMENTATION NOTICEABLE?
The main fear for most people considering getting an SMP Hair Micropigmentation procedure is the fear that people will notice it.
This is a common question we get at HairTatto.ca, one of Toronto's top hair micropigmentation specialist clinics.  People want and expect an excellent result, so choosing the right clinic to perform the SMP® procedure is very important to the development you will obtain.
What is Scalp Micropigmentation?
What is SMP® and what it isn't?  SMP® is short for scalp micropigmentation. It is the process of applying tiny dots of pigment to the scalp to mimic the look of natural hair follicles.  It is a permanent hair loss solution for both men and women.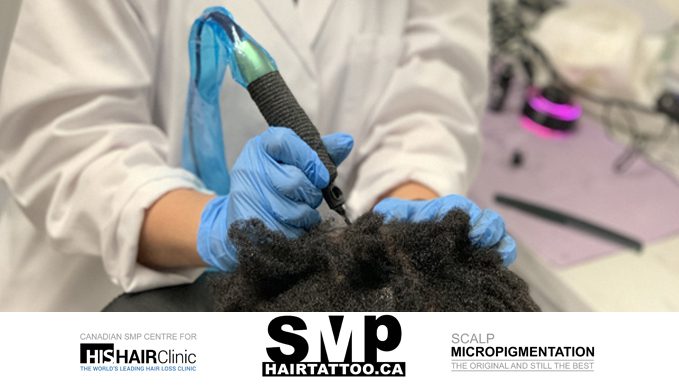 Although SMP® is often called a hair tattoo, it is nothing like a tattoo. Hair micropigmentation does not penetrate the skin as deeply as a regular tattoo.  Traditional tattoos have lost their colour over the years. SMP® hair micropigmentation specialized, and tested pigments retain their colour and will remain the same colour in the future.
The procedure involves a specialized technique using many different needle sizes, angles, penetration depths, distribution rates and pigment colours. 
Therefore, SMP® is not performed by tattoo artists. It is a very specialized procedure developed and trademarked (SMP®) in the United Kingdom over 17 years ago by founder Ian Watson of HIS hair clinic.
The technicians at Hairtatoo.ca, having trained with Ian, have acquired the highly skilled training that clients expect and deserve for their SMP® scalp micropigmentation procedure.
Over 20 years have been used to fully understand, access and gain technical know-how and expert knowledge of exactly what happens to the treated area of the scalp over this long period of time.  Clinical evidence and clinical trials were necessary to successfully take the innovative hair loss treatment from an initial concept to establishing a fully developed clinical process that ensures consistently excellent results.
The SMP Procedure
There are two main reasons our SMP® hair micropigmentation is superior to our competitors.  One, with our specialized pigment, they don't degrade quickly under UV radiation, and two, they do not change colour when they do. Our SMP® hair micropigmentation pigments are built upon research by many different parties over the past 17 years to improve tattoo and cosmetic pigmentation ink. Because of this, SMP® pigments are designed to be chemically inert, sterile, highly resistant to UV radiation and to decompose stably. This allows a client to wear SMP® in bright outdoor conditions for many years, and when it fades, the client will not be the victim of a chemical reaction that leaves them with a blue Smurf head.
Depending upon the hair loss extent, a typical client will take two to three treatments to achieve their final appearance. The first treatment places a very light application on the scalp to assess fading and density levels.  The normal reaction for most clients is to assume that the SMP® is too light and to be a bit nervous.  However, this is a normal part of the treatment, as the 2nd and 3rd layers of pigmentation will give it a realistic 3D-looking scalp.  The 2nd treatment adds most of the density to the scalp.  The 3rd treatment, if needed, is for completing the look, addressing darkness matching or even the thickness across the scalp.  Avoid SMP® clinics that say they can do the whole treatment in one session.
At Hairtattoo.ca, we do not offer tattoo or permanent make-up services.  Instead, we have focused on providing a world-class Hair Micropigmentation service with enough artistic flair to create exact colour matches, perfect natural hairlines, and carefully constructed follicle densities.
SMP® Hair Micropigmentation is changing how people around the world combat their hair loss condition.  Whereas in the past, the only solutions have been temporary (hair systems, hairpieces, concealers etc.), have had their effectiveness called into question or involved a surgical procedure, some of which result in scarring of the scalp, at last, people have a viable alternative.
SO IS HAIR MICROPIGMENTATION NOTICEABLE?
So, is SMP® Hair Micropigmentation noticeable?  It all depends on who does it for you. At Hairtattoo.ca, our procedures are done by professionally trained technicians by the originators of SMP®. Even from just one foot away, even close family members cannot tell where your natural hair ends and where the SMP® begins. 
Takeaway
Hair pigmentation, also known as scalp micropigmentation, is a non-surgical hair loss treatment that has become increasingly popular for both men and women in recent years. This innovative procedure involves depositing tiny dots of tattoo ink into the scalp to mimic the appearance of hair follicles, creating an illusion of thicker hair and adding density to bald spots.
Hair pigmentation is an excellent solution for those who are experiencing thinning hair or have a receding hairline, as it can make hair appear fuller and provide a hairline tattoo that looks natural. Hair pigmentation is distinct from hair transplantation, as the latter involves surgically removing hair follicles from one area of the scalp to another, while the former is a non-invasive alternative that allows individuals to avoid any downtime for recovery.
The hair pigmentation process involves using a specialized machine with computer-controlled microfine needles to apply the tattoo ink to the scalp. The ink is specially formulated to match the natural pigment of the hair follicles, ensuring a highly realistic and long-lasting result. The needles are inserted into the scalp at different angles and depths, depending on the specific area of the scalp being treated, to create a natural-looking hairline tattoo.
Hair pigmentation is an excellent choice for those with a buzz cut or short hair, as it can add density to thinning hair and create an illusion of thickness. It can also be used to add density to areas where hair growth has slowed down, such as in the case of male pattern baldness. Hair pigmentation is a permanent makeup solution, so it will not wash off in the shower or steam room.
In conclusion, hair pigmentation is a highly effective hair loss solution for those looking to add density and create a hairline tattoo that looks natural. Using tattoo ink, hair pigmentation is a non-invasive, non-surgical procedure that imitates hair follicles, providing an effective and durable treatment option for individuals seeking a solution to hair loss.
Whether you have a receding hairline, bald spots, or simply thinning hair, hair pigmentation can help you achieve the appearance of thicker, fuller hair.
If the SMP treatment is done correctly, it should not be noticeable that the individual has had the procedure done. The result should be a more youthful and fuller-looking head of hair without any telltale signs of having undergone a cosmetic procedure. However, it is essential to choose a reputable SMP artist with a proven track record of producing natural-looking results.
To book a free consultation with our SMP technician, please visit hairtattoo.ca or call 647-492-9093.  Our main treatment centre is located at 9130 Leslie St #301, Richmond Hill, Ontario, L4B 3L6, and 600 Sherbourne St #605, Toronto, Ontario, M4X 1W4.