Scalp Micropigmentation BEFORE AND AFTER
Book Your Free Consultation Today Or Call
(416) 887-5234
FUE and FUT SCAR CAMOUFLAGE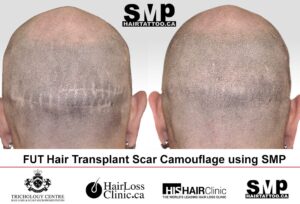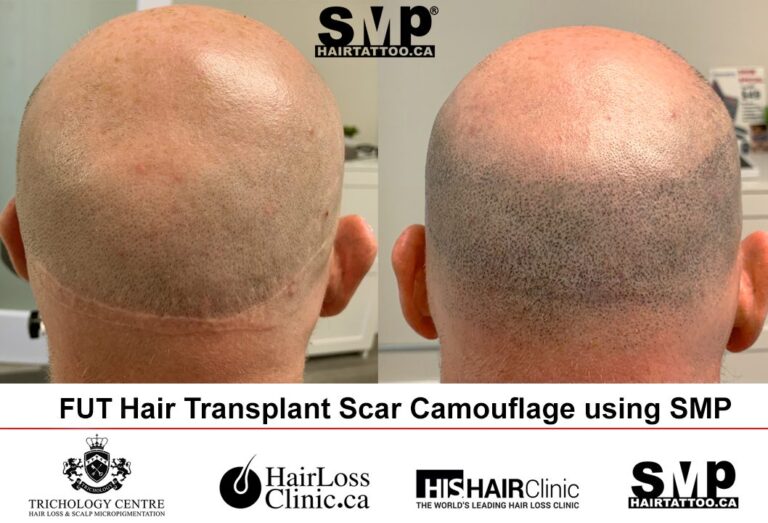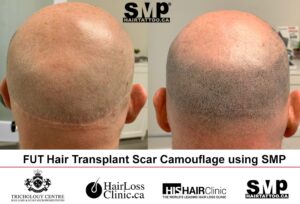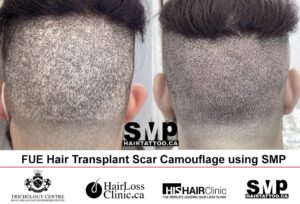 Hair Tattoo before and after
Many individuals dealing with the debilitating consequences of hair loss or a receding hairline should consider a scalp tattoo. It is a new cosmetic procedure that can assist in giving the appearance of full hair on your head—looking for scalp micropigmentation before and after? Please scroll down below.
Though it works best for low-cut hair, even with long hair, it is quite effective and delivers quick, noticeable results.
By using SMP, the hair follicle appears to be still active. It will seem more closely shaved than fully grown.
Choosing a hair tattoo can improve your life if you have emotional stress due to excessive hair loss to the point that it influences how you view yourself and interferes with your daily life.
What is SMP Hair?
SMP hair, sometimes known as a hair tattoo, is a procedure that uses tiny pigments injected into the scalp with the aid of a microneedle to mimic the look of hair follicles.
The ink is significantly more potent than a typical tattoo, and the needles are tiny to minimize excessive fading. SMP can provide the impression that hair has just been shaved close to the scalp while giving the idea that hair follicles are present all over the scalp.
Additionally, it may give the appearance that the hairline is broader and fuller.
Scalp Micropigmentation Before and After – For Women
Benefits of Tattoo Hair
SMP hair is a non-surgical, affordable solution for hair loss. It's non-invasive, making it ideal for those who can't tolerate surgical hair replacement methods. SMP can also conceal scars from hair transplants or other injuries. Its primary goal is to provide the illusion of having a full head of hair and can effectively conceal baldness or patches. Additionally, SMP is semi-permanent, lasting 3-6 years before requiring a touch-up.
Scalp micropigmentation before and after gallery
Book Your Free Consultation Today Or Call
(416) 887-5234