Micro Scalp Pigmentation: A Good Hair Loss Solution for Men and Women
Book Your Free Consultation Today Or Call
(416) 887-5234
Micro scalp pigmentation treatment, or SMP, is a non-invasive procedure that helps people suffering from hair loss, pattern baldness, thinning hair, hairline recession, and hair transplant scarring. By depositing pigment into the scalp using precise micro-needles, SMP creates the appearance of hair follicles and thickens hair, giving it a fuller appearance.
This technique can repair receding hairlines, add density to thinning areas, and create a buzz-cut style for bald people. SMP uses cosmetic pigmentation and cutting-edge machinery to blend into existing hair for a flawless look, with little to no upkeep required. A free consultation with a qualified professional can help determine if SMP is the right hair loss solution.
Micro Scalp Pigmentation for Men
For men, the SMP treatment is becoming an increasingly popular option for those experiencing receding hairlines. This cosmetic procedure involves depositing pigments into the scalp to mimic the appearance of real hair follicles, resulting in a natural-looking and subtle hairline restoration. Unlike hair transplants, micro scalp pigmentation is a non-invasive and permanent makeup solution that does not require any ongoing maintenance.
The SMP treatment uses specialized needle configurations and colours to create impressions that resemble hair, giving the impression of having a complete head of hair on the scalp. The impressions soften and merge with your hair, resulting in an unnoticeable and natural-looking outcome. Additionally, hair tattoos and tattoo scalp tattoos can also be used to achieve a similar effect.
Scalp micropigmentation for Women
We provide various SMP options for ladies experiencing different types of hair loss. Our long hair treatments for women produce a highly effective camouflage and the illusion of greater fullness and density, concealing areas of thinning hair in a discrete manner that looks completely natural, in contrast to standard SMP procedures where the goal is to mimic the appearance of shaved hair.
Female clients with enough hair left behind can benefit from our options for density-filling treatments.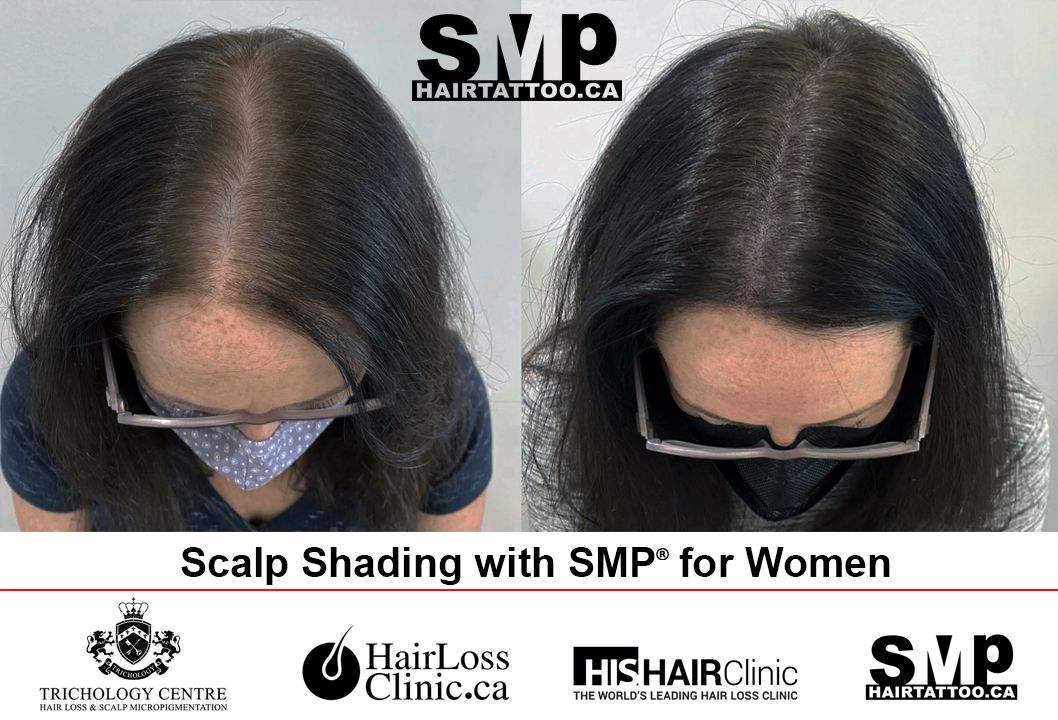 What a micro scalp pigmentation treatment is like?
A specialist applies medical-grade pigment using a needle to the targeted parts of the scalp. The dots are different in size, angle, and depth to give a natural, hairlike appearance.
The treatment time depends on the size of the area being treated. On average, it takes from one to three hours per session. Most patients require three or more treatments over one to two weeks. Additional colour is added during each treatment to make thick hair appear.
You can quickly return to your routine because no surgery or anesthetic is required. micro scalp pigmentation has extremely few adverse effects. However, your scalp may experience some temporary redness for a few hours. If you want, you can cover your scalp with a hat or scarf.
How does micro scalp pigmentation work?
Instead of creating hairlike lines like you would when microblading your eyebrows, the objective of SMP is to imitate the appearance of a shadow on your head using tiny, layered dots in various shades of black. Pointillism is a technique used to add the appearance of depth and definition.
Who's a great candidate for micro scalp pigmentation?
For people with pattern baldness who have lost a lot of hair, micro scalp pigmentation (also known as a scalp tattoo) is the best option. A customer can get the appearance of a full head of short-cropped hair right away by achieving the follicular look in all of the balding places!
For people with a slight recession or thinning hair, scalp pigmentation is also fantastic. Scalp pigmentation can strengthen and add density to thinning regions by precisely mimicking your natural hair follicles and colour, giving the invisible appearance of thicker, stronger hair.
How long does it last?
As SMP is a permanent cosmetic procedure, you may anticipate that the pigment will last forever. Yet with time, the colour may fade without touch-ups, just like with other tattoos. With touch-ups every few years, results can last four to eight years.
Does scalp micropigmentation look real?
A small amount of black pigment is injected with a needle into your shaved scalp during the micro scalp pigmentation. This is done all over your head to give the appearance of thinning hair a well-groomed, realistic appearance instead. As a result, you always appear business-ready because of SMP's ability to replicate the look of a clean buzz cut while looking entirely natural. This relief is because numerous hair treatments sometimes produce uneven or ineffective results.
Book a free consultation.
Have questions about micro scalp pigmentation? Why not call us to book a free consultation with one of our expert SMP technicians? You can reach us at 647-492-5022.