We Are The Inventors Of SMP® Scalp Micropigmentation
Are you looking for the best clinic to get your Scalp Micropigmentation hair tattoo done? Well, look no further. We are the inventors of SMP® Scalp Micropigmentation. This tattoo hair treatment was developed by internationally recognized HIS Hair Clinic in the United Kingdom over 20 years ago.
Our experience, expertise and results are widely regarded as the best in the world. We are recognized as the FIRST company specializing in cosmetic and medical SMP hair. We spent many years developing and fine-tuning the hairline tattoo technique as a non-surgical, effective, affordable, and immediate solution for androgenetic alopecia and alopecia areata sufferers.
We are NOT a hair salon, beauty centre, or tattoo studio. HIS Hair Clinic Canada is operated by certified technicians / SMP tattoo artists professionally trained at HIS Hair Clinic UK. Our scalp tattoo treatment uses a sophisticated blend of science and creative cosmetic flair in the specialized field of hair loss.
Many variables involved with performing this hair micropigmentation treatment make this process more of an art form than a science.
Hair tattoos are unique; the technique is safe, and the results are immediate. SMP® Scalp Micropigmentation represents exceptional value for money in comparison to other surgical, cosmetic, and pharmaceutical hair loss solutions. Contact our micropigmentation specialist centre today.
Is SMP® Scalp Micropigmentation A Hair Tattoo?
Yes and No. This treatment is often referred to as permanent makeup, hair tattoo, scalp tattoo, or hairline tattoo. However, micro scalp pigmentation is nothing like a regular tattoo.
Hair micropigmentation requires the technician to apply the specialized technique using many different needle sizes, penetration depths, angles, pigment colours and distribution rates depending on the specific area of the scalp being treated at the time, the individual's skin tone and the desired final appearance.
The needles do not penetrate as deeply as with a standard tattoo, and our specialized and tested pigments, not tattoo inks, don't change colour over time. We use computer-controlled microfine needles in triple clusters to achieve the guaranteed consistency of results that this hair loss treatment demands.
Micro Scalp Pigmentation Testimonial
Our Scalp Tattoo and Hair Loss Treatment
SMP Before and After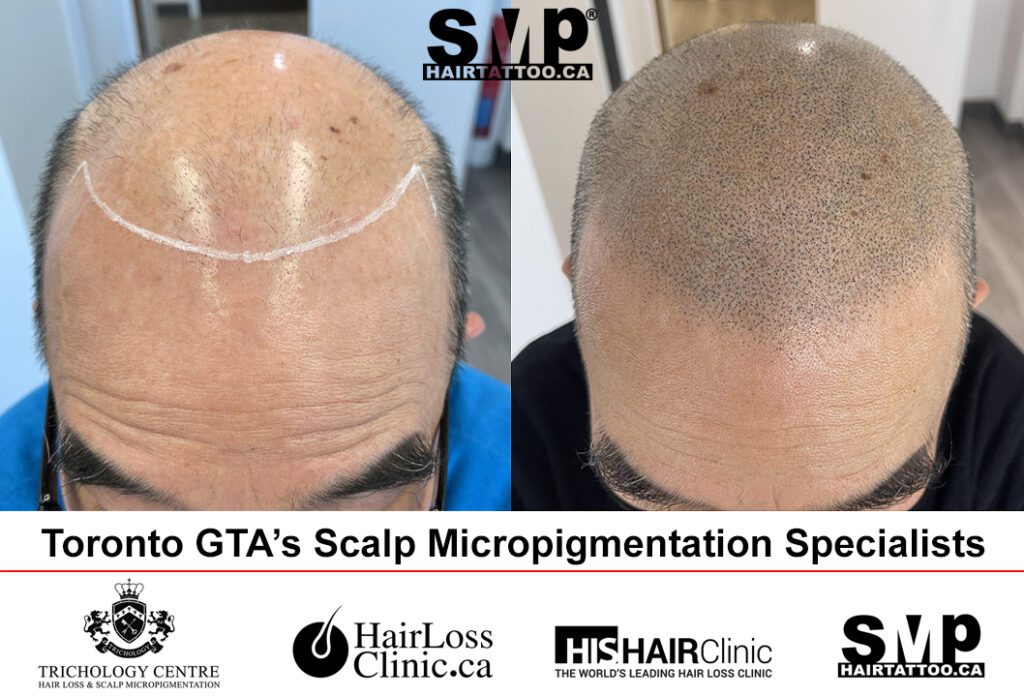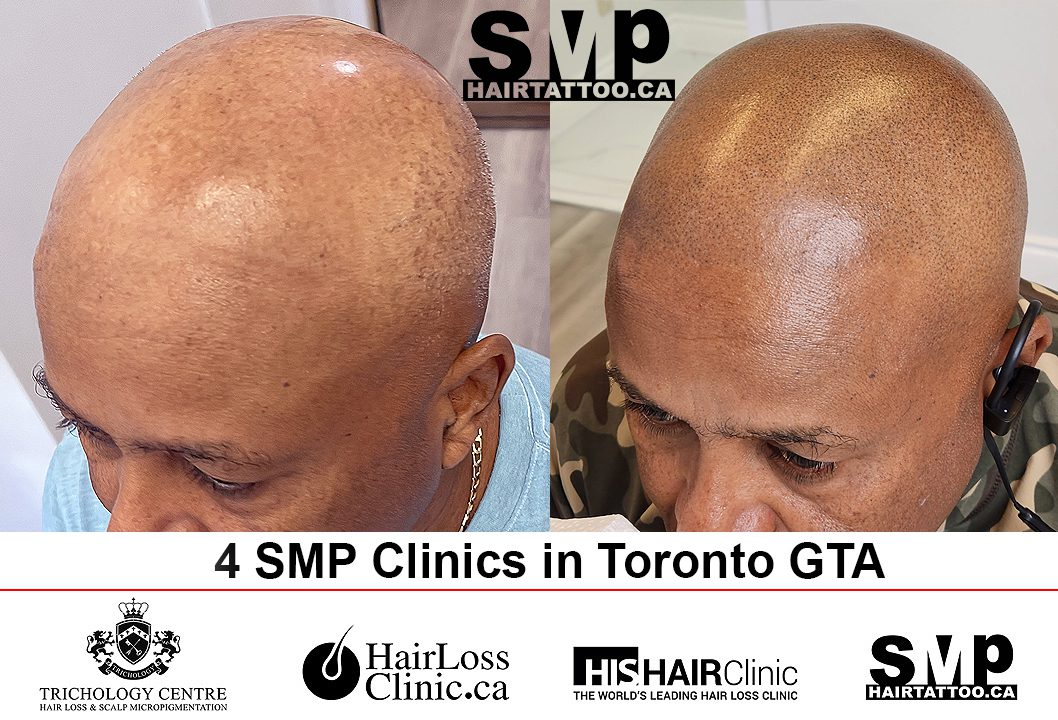 Scalp Micropigmentation Before and After
Scalp Micropigmentation for Women
Head Tattoos for Hair Loss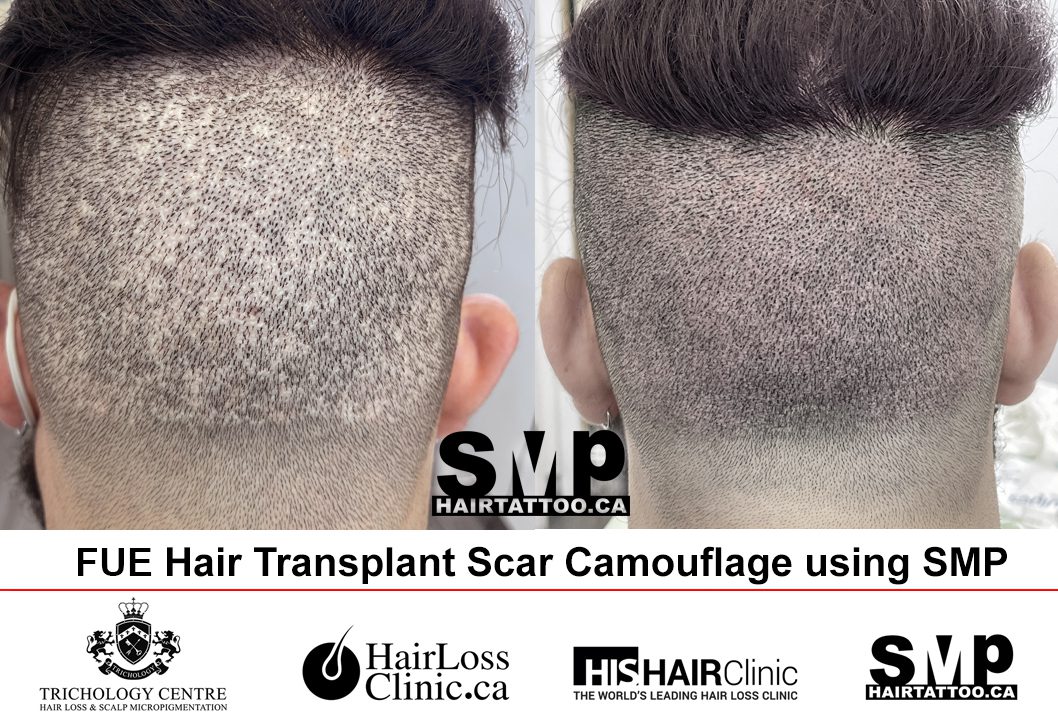 Hair Tattoo for Men & Women
SMP Hair
Why Is Our Hairline Tattoo | Hair Tattoo Technique Different Than The Competition?
Simply put, our staff were trained by the best. His Hair Clinic is the world's leading SMP® and hair loss clinic. HIS Hair Clinic is globally accredited as the pioneer of hair tattoo and scalp tattoo procedures.
Our androgenetic alopecia treatment, developed in 2002, creates the most realistic 3D effect on the scalp. Even from close inspection of your scalp, our technique achieves incredible 3D realistic results that look like real hair follicles on a buzz cut for men and added density for women.
Our SMP® Micro Hair Tattoo technique is internationally recognized worldwide, and our experience, expertise and excellent results are widely regarded as the best in the world. We have spent many years developing our tattoo hair techniques.
We have more micro scalp pigmentation clinics worldwide than any of our competitors. Each clinic treats a significant and growing number of clients each week. MORE INFO ON WHY CHOOSE US
SMP HAIR FOR HAIR LOSS IN WOMEN AND MEN
HAIR MICROPIGMENTATION IS USED TO TREAT:
Hair loss in men – male pattern baldness – androgenetic alopecia
Hair loss in women – diffused thinning hair – female pattern hair loss (we can add density and thickness to thinning hair)
Receding hairline (we can recreate a new hairline tattoo)
Hair transplant scars and other scars (we can hide FUT & FUE scars)
Alopecia Areata (we can camouflage bald patches on the scalp that didn't grow back)
Camouflage thinning or bald patches in beards and moustaches
Recreate thinning eyebrows or no eyebrows with micro blading technique
As the innovators of this micro scalp pigmentation hair treatment, we can offer our clients more experience and expertise than any other company worldwide.
For men and women alopecia sufferers, we are fully aware of your extremely sensitive needs, and our hair loss clinics are designed to provide a private, confidential and relaxing environment.
Our hair transplant clinic referral can help you find the right doctor if you are considering hair restoration surgery.
If you are losing your hair and looking for a tattoo hair or other hair loss solution, why not give our hair specialist Toronto clinic a call for a free no obligation consultation at (647) 492-5022. Visit our TRICHOLOGY CENTRE | HairLossClinic.ca for free online hair loss/alopecia assessment today.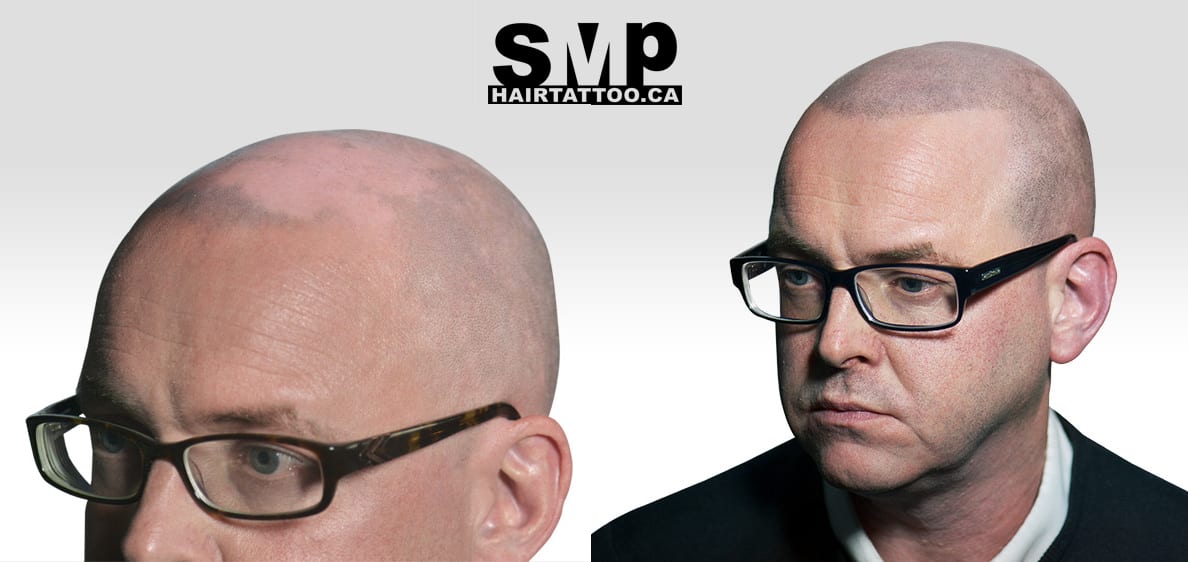 Ready to Get Started?
Contact Us today to Schedule YOUR FREE Scalp Pigmentation Consultation at our hair loss clinic in Toronto and Richmond Hill.
Learn the SMP hair process and scalp micropigmentation cost | Hair Loss Clinic Toronto Trichology Centre.